News Details
MAY 15, 2013
Read EY's Journal from their 2012 European Concert Tour!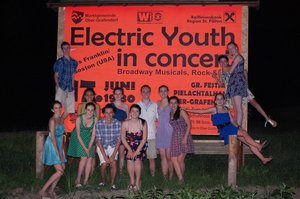 June 15th ~ Entry by Jocelyn, 13, of Franklin 
On June 15th we departed for Europe! First we were welcomed to the pink room with an EY Fan Club cake and many screams of excitement (Jenna... Cough*cough*). After double checking costumes, weighing bags and more screaming, we hopped on the bus and waved to our anxious parents. The airport was crowded with foreign travelers as we got ready to board. The plane was interestingly fun because we were all spread out. Actually I don't recall the plane because I slept through most of the flight, including dinner and breakfast! Finally we landed in Switzerland and Raye Lynn's "Global Awareness Challenge" begins. This will be an exciting tour!
---
June 16th ~ Entry by Melissa, 17, of Franklin
When we landed in Zurich we had about an hour layover so some of us got food. Our first purchase with Euros! Then we boarded our second plane. Luckily, this time EY was more condensed on the plane so we all had a seatmate that we knew. The flight was only an hour. When we landed in Vienna, our agents Verena and Gianni De Prato, our Austria tour guide Karl-Heinz and our bus driver Franz were waiting and waving! We collected our luggage and walked for a while to the bus. That was hard because we all had two suitcases, but - oh well!! Our tour bus is awesome and comfy! We got to the Hotel de France and got ready for dinner. Dinner was fun and some of us tried our first wiener schnitzel! We met Raye Lynn's piano teacher Regina Seidlhofer and a pianist Reginaldo Mordenti who has been to FSPA. De Pratos and Karl-Heinz joined us, too. We celebrated the beginning of the tour and then we all went right to bed to get a good first night's sleep in Europe.
---
June 17th ~ Entry by Jillian, 16, of Franklin
Our first official day in Vienna was awesome! We started with breakfast at the Hotel de France – a little late because we were all really tired. Then we did some sightseeing walking in the first district of Vienna around The Ring, through the Mozart Park, the Hofburg Palace, Spanish Riding School and back home down the Kartnerstrasse and the Graben. Although we were told not to admit it in a city known for its coffee houses, we stopped at Starbucks to get something to drink. Next we drove to Obergrafendorf, the location of our opening concert. While we were there, we gave a workshop to 8 girls from the town and we taught them Mony Mony and Land of 1000 Dances, which they performed with us in our second set. They were very nice and were horrified at our German! Our opening concert was small, but perfect for our first show! Obergrafendorf is the home town of Electric Youth's first bus driver, Karl who passed away in 2007. His family hosted a dinner just for us after the show at his brother's Heuriger restaurant. Then we drove back to the Hotel de France and went to bed to end a fantastic day!
---
June 18th ~ Entry by Jenna, 13, of Wrentham
We woke up at the Hotel de France which was a wonderful hotel that all of us like very much. We had another very good breakfast, loaded the bus had a nice ride to our new hotel in the country. Next we went to the venue to load-in and do sound check for our show in Wildon. The more we did that night, the less we had to do the next morning, so we could sleep in! That night when we drove back from setting up, we had dinner at the Hotel Gollner. Pancake soup! I know that's probably not what they call it, but that's what it was – and it was good! After dinner we all hung out in Jocelyn, Erica and Jill's room. It was really fun hanging out all together! Because we obviously don't have enough time together ANYWAY! But after a long day, we all fell asleep (for the most part ).
---
June 19th ~ Entry by Shaina, 13, of Franklin
Today was an exciting day! We had our second show. We performed for middle and high school students from a lot of schools and they loved it! They especially loved Sweet Child of Mine, Mony, Time Warp and We're Not Gunna Take It. We got to sign many autographs for our fans. After we finished the load out, we headed for the Zotter Chocolate Factory! The chocolate was amazing! It was cool because we got to taste the chocolate from the coco beans to the finished product. There were so many different flavors – more than you could ever imagine! Then we loaded back onto the bus and went to dinner in Grinzing, the little wine village in Vienna. We had a buffet of typical Austrian food. After dinner we arrived at the hotel and got new roommates! For the most part everyone was exhausted after a great day.
---
June 20th ~ Entry by Ali, 16, of Franklin
Today we didn't have a show, but we still had a lot to do. We began with a boat ride on the Danube River after a walk through the ancient town of Dernstein. The boat brought us to the town of Melk where we visited a beautiful monastery where our bus driver Franz went to school and took music lessons. There we got to hear his teacher play a concert just for us on the church's incredible organ. IT was so cool to get to hear the amazing music in such a beautiful building. After that, we got back on the bus which brought us to the little town of Baden. There we spent time shopping, eating and seeing a few historical sights such as Beethoven's apartment where he composed his ninth symphony. We then got back on the bus again to go to dinner at what all former EYers know as the "chicken dance place." We enjoyed a mess of fried food – it was splendid. We then returned to the Hotel de France to go to sleep after a day of sight seeing shenanigans.
---
June 21st ~ Entry by Giovanna, 17, of Franklin
Today we did not have a show so we went sightseeing again! The day began with Karl-Heinz giving us a tour of the Stadtsoper (city opera house). It was absolutely beautiful! We got to go backstage and it was so big and full of hundreds of sets! This theater made Horace Mann look like an ant farm! After that, we went to the Spanish Riding School and got to see the dancing white horses, some of which could dance better than I do! We saw St. Stephen's Cathedral and many other beautiful places in the city center and had lunch at the oldest restaurant in Vienna. As if the day could not get any cooler, we went to the See Grotto, caves underground where we took a boat ride. Lucas and Melissa told us all ghost stories and it was wonderful! That night we went to this really cool restaurant called Piaristenkeller with a famous wine cellar. It used to have a really high class school above it that Mozart sent his son to for two years! We all got to wear really fancy hats while the adults tasted wine and we tasted different juices. It was overall a really great day and we got to see a ton of really beautiful places in Vienna! Europe is a lovely place and the wiener schnitzel is divine.
---
June 22nd ~ Entry by Erica, 18, of Medfield
Today was a very exciting day for Electric Youth. We began the day with Nick's infamous Vienna Scavenger Hunt and ended with a show in Franz's home town near St. Polten. For the scavenger hunt we broke down into three teams – Datzingers, Wieners and JGALs. We had to run around the city taking pictures of random strangers and specific statues we had learned about. My teamkicked butt and were the lucky winners of the traditional tacky prizes. After an eventful and exciting morning we headed to Hafnerbach , our bus driver's home town for the show he set up for us at the ruins of a castle. On the way to load-in, we stopped at Franz's home for a delicious snack of Hungarain goulash soup, homemade bread and cookies. The venue was beautiful and the show had a strong start when half way through Edge of Glory it began to rain heavily. We had to stop midway through the song and run to the bus taking any and everything we could to protect the music and equipment from the rain. After all of Franz's hard work, there was no way we weren't performing, so we came up with a solution. Inside the castle was a small stage in a little theater. We went upstairs and performed Electric Youth unplugged with no microphones and only piano, bass, sax and trumpet. Even though it was not the show we expected to give, it was so much fun and the audience loved it. We then ended the night with dinner and fireworks in the village below where they were celebrating the Summer Solstice. Overall it was an exciting and eventful day for all the members of Electric Youth!
---
June 23rd ~ Entry by Alicia, 16, of Franklin
This morning was our last morning in Vienna. We departed from Hotel de France around 12:30pm and headed for our next destination which was Mattersburg (still in Austria). The bus ride was about two hours. When we got to our hotel in Donnerskirchen we checked in and ate lunch at our hotel. The hotel itself was cool. We practically took up the entire floor ourselves. Another thing I thought was interesting was in order to get electricity in the room you had to leave your hotel key in a key hole by the door. I had never seen anything like that before. After lunch and check-in we quickly got ready for our show. We drove to the venue and unloaded everything for our show. The turnout for the show was not what we expected, but we got to do a personalized show for Raye Lynn's piano teacher Maria-Regina Seidlhofer. We all had a blast and it acted as a great rehearsal for our other shows coming up. After the show we had dinner at the venue and then went back to the hotel to prepare for our six hour bus ride to Italy tomorrow.
---
June 24th ~ Entry by Graham, 15, of Franklin
Today we began our exciting journey to Italy! We woke up bright and early to get on the bus for the six hour trip. The stop for lunch was great as we ate overlooking one of the most beautiful lakes in Austria. Nick kept the bus ride fun while entertaining us with games including Electric Youth Jeopardy. When we arrived, we settled in at Hotel American, walked on the beach and checked out the pool. We ate at an outdoor restaurant called La Granseola – historically a favorite of the EY Tours - where they served delicious pizza and pastas. The mosquitos enjoyed the pizza through my blood. It was a great day.
---
June 25th ~ Entry by Michael, 18, of Hopkinton
Today was a beautiful day on the EY tour. It was our first full day in Lignano, Italy. The day started off with a relaxing morning of sun bathing on the beach and swimming in the clear Adriatic Sea where some of the younger members proceeded to throw mud at each other in the water. It was a great day of bonding and relaxing for us after a long day of traveling the day before. That night we were going to have our first show in Italy…..or so we thought. As we were setting up the stage to prepare for the show, some of us looked up in the sky and saw dark clouds moving toward our stage. Before we knew it, the clouds opened up and started to pour. Although the stage was somewhat shaded the water drenched our equipment. We had to wait out the rain and lightning before we could try to move the equipment to the tour bus. We ran for cover along a pier and into a restaurant where we waited to hear if the equipment was damaged or not. That night was a valuable experience for Electric Youth as we worked as a team, grabbing towels and helping to wipe down all of the equipment, cables and instruments. We even brought down hairdryers to help dry the pages of music that were soaked from the rain. The hotel staff at Hotel American provided towels and space to dry the equipment overnight. Today was one of the most eventful days of our tour so far.
---
June 26th ~ Entry by Lucas, 17, of Franklin
After a late night of drying all of the music and equipment that was soaked in the "monsoon", a late start the next day was much appreciated. After sleeping in, we all spent the morning by the pool while the staff checked all the equipment to make sure it was not destroyed by the rain. Besides a break for lunch the whole day was spent in the pool. We swam, read, slept and played football. It was a great way to relax and unwind from the stress of the exciting night prior. Before we knew it the day had flown by and it was now time to have a show. We were incredibly lucky because almost all of the equipment survived and one amplifier was able to be replaced. The show was able to go on as planned and there was not a cloud in sight this time. Our show was in a huge tent in Lignano Pineta and we were worried that we wouldn't have an audience because the stage was somewhat isolated but the second the music started the crowd came pouring in. The tent was packed. It was such an adrenaline rush for all of us to be performing for such an energetic audience. They loved the show and were clapping along the whole night. It was one of the best audiences we had yet on the tour. After the rain storm fiasco this was the jump start we needed to really get this tour rolling again. EY was back on its feet and better than ever!
---
June 27th ~ Entry by Sasha, 14, of Sharon
Our day in Lignano was slightly different. Usually we would go to the beach on a beautiful day like today, but Electric Youth apparently doesn't know how to properly apply sunscreen because of everyone's sunburns from the previous day, we decided it was best to stay in the shade and go shopping. Common items that were bought were sunglasses, Murano glass, and gelato, of course. After shopping we went to lunch and ordered the usual pasta and pizza. We were then treated to even more gelato. Electric Youth then headed back to the hotel where some of us took naps to rest up for our show. We got ready and headed out to our first show in Bibione. Our show was in the middle of a shopping square with lots of people walking around. We did a sound-check and were ready to start the show at nine. The crowd was huge and we put on a great show. After much applause, we all changed on the bus to prepare for dinner. We walked to a nearby restaurant and enjoyed more pasta and pizza. Nearly falling asleep on the table, we journeyed back to the hotel to end a fantastic day.
---
June 28th ~ Entry by Jocelyn, 13, of Franklin
SUMMER GAMES DAY!! On this wonderful Thursday morning, my roommates and I woke up ready to defeat the staff in the very well known FSPA Summer Games. I had just chugged some energy drink, my Gatorade energy gummies and chowed down on an ice cream bar for breakfast. I was ready to go! For the Summer Games, we play volleyball and then shortly after fooled around in the water on rented boats (The EY Regatta). The day was going dandy until in the water, my foot felt like it was bitten by a shark. I had to go to the hospital because my middle toe was turning black, swollen and hurting like....a lot. I was shaking and my life was flashing before my eyes. I started to wonder if I could live another day. (Ed. note: perhaps a bit of melodrama added, but she was VERY brave) This is when the nurse entered the room. "Put your foot in warm water for 30 minutes and it will be all better. You stepped on a spider fish." With Raye Lynn, Verena, Kellie and Nurse Shelley, we sat in the room for a half hour while the pain slowly drained out of my foot. I was able to perform in the show that night at Bibione. Lots of people came and cheered even though the soccer game (Germany v. Italy) was during our show which made us feel very loved. A late dinner with lots of spaghetti pomodoro and pizza margharita occurred after that. It was a long tiring day for all of us.
---
June 29th ~ Entry by Shaina, 13, of Franklin
Today we woke up at our Lignano hotel. Most of us were sad to leave but excited for Tuscany. We sang for the people at the hotel and we were on our way. The bus ride was about 5 hours long and we finally arrived at Montecatini. We checked in at our hotel. My hotel room had a loft which was really cool. We all got ready for the show that started at 9. The town had lots of entertainment happening and there were many other bands playing on other stages. Our stage was in the middle of an ancient town square surrounded now by restaurants and stores and in front a popular, outside restaurant. We did 2 sets instead of our usual one long set. After the show we met a group of college kids from Delaware and a student group from Canada. They said they had a great time watching the show and that we were all very talented. After we moved all the equipment back on the bus we went to dinner where we had many types of pizza. We could not bring the bus back to the square to load out until 1:30! By the time we got back to the hotel it was around 2 o'clock. We were all exhausted from the long day!
---
June 30th ~ Entry by Jenna, 13, of Wrentham
We luckily got to sleep in and get a late start to the day - although some of us woke up early to swim. We had a free day for shopping in Montecatini. The "Littles" stayed with the staff so we wouldn't get lost but everyone else broke off in groups. We had a lot of gelato and decided to buy crazy makeup for the fun of it. We also bought a lot of blow up toys that at the moment made a lot of sense to buy but we probably will never use them again. Then we went to a lovely restaurant in Montecatini  Alto with a nice view of the town below. We had a lovely dinner and played fun games like black magic, bang and some new game Melissa knew. Also by accident, I spilled Raye Lynn's water all over myself and her. Then not knowing what to do I simply said, "That didn't happen! You didn't see anything!" Then we drove back to the hotel for a midnight swim and slept.
---
July 1st ~ Entry by Melissa, 17, of Franklin
Today is Tracy Lane's birthday! (Technically we started celebrating at midnight because she went swimming with all the kids!) This morning we woke up early to leave Tuscany for Todi (in Umbria). We had a long bus ride with a stop in Assisi. It was so historical and the view was beautiful. We went to the St. Francis Cathedral and saw his tomb. Then we walked down the mountain in the blazing hot. Thankfully we stopped for a drink, though :) Then it was back on the road and a quick pit stop for lunch. I was really confused at lunch because you were supposed to pay before ordering. Oops! Finally we arrived in Todi with some time for a nap and prep time for dinner. Dinner was at an outdoor restaurant with very good food!! After dinner, Jenna found a little kitty. She and Erica were very concerned for the cat's well-being but Nick convinced them to let it go. It was fun to play with while we were at the restaurant, though. After dinner, we sang our Green Day song for the chef and got gelato on the way back to the hotel.
Todi is so beautiful and is the ancient Italy you think of. Unfortunately, the Italian soccer team lost to Spain tonight in the Euro Cup. So, although it was a sad day for Italy's soccer fans, EY had an eventful day and Tracy had a memorable birthday!
---
July 2nd ~ Entry by Giovanna , 17, of Franklin
Today was a really exciting day! We spent the morning walking around the square in Todi. The group ended up wandering into the church only to discover...The Catacombs! At one Euro a piece, each EY member was granted admission into the underground caves! I must say, they were less than thrilling upon first sighting. Just a bunch of placques on the walls with the names of deadpeople on them. Apparently there were bodies in the walls but whatever, it was still kind of lame, but then "The Littles" found a small hole in the wall. It was obvious that no one was meant to enter said hole, but Ali and I, The Littles and Kellie ignored that notion and entered anyway. Upon entering, we ventured down a long, dark hallway with no lights. It had coffin sized holes in them. After a while of exploring, Shaina screamed and we all got scared and ran out.
We also had a show later that day which went swimmingly but the catacombs were definitely the highlight!
---
July 3rd ~ Entry by Ali, 16, of Franklin
Today we had another morning of sightseeing/shopping in Todi in the square near our hotel. For me, that meant the journey back to the catacombs!! The group of archeologists from yesterday's expedition including Kellie, Jenna, Jocelyn, Shaina, Giovanna, and myself returned this time with new recruits Lucas and Nick. We went back to the church, went down the stairs, and began Part Two of our adventure. After getting us all through the small (and inconveniently placed) "window" we approached the familiar gate leading to the ominous, pitch black hallway... Long story short, we made it to the end!!
Around noon the whole group met up and we had the FSPA Summer Games Gelato Eating Contest (and/or "celebration" for the less hardcore)! The speed competition was between Lucas, Shaina, Jocelyn, and me. I think we all knew going into it that Jocelyn would win, but we didn't expect her to be as lightning fast as she was (3 scoops in 40 seconds!). She even went back for more!
After the gelato we had a little nap time before getting on the bus to Orvieto. In this ancient town some of us had our second underground adventure of the day, for we went on a tour of the underground caves (not quite catacombs but close enough)! We then got on the bus to take us to a vineyard and Winery right outside Orvieto. There we got to tour the underground wine cellar, eat some wonderful food while the adults tasted wine, and have sassy photo shoots with the most beautiful backdrop imaginable. 
We closed the day by returning to Todi and having dinner at the La Mulinella restaurant where we ate our first night there (which was great because the food was amazing). It was an exciting day and a great way to end our stay in Todi.
---
July 4th ~ Entry by Michael, 18, of Hopkinton
Today is the 4th of July! We woke up very early to be on the bus by 6 am to drive to Aviano Air Force Base where we were honored to perform for our troupes and their families stationed overseas on this very special holiday. The Aviano show is my favorite show to perform. When we got to the base, we all sat down for what was for me one of the best meals we have had all trip. They gave us hamburgers, hot dogs, and some vegetables with dip. After lunch we did our sound check at the stage and then went back to our hotel to get ready for the show which started at 8. Everyone at the base really enjoyed our performance. After the show we met the General of the base which was such an honor for us. Later on, we were lead outside to watch an amazing fireworks display and a delicious dinner to follow. Despite waking up very early, the day was very rewarding and ended with a bang.
---
July 5th ~ Entry by Lucas, 17, of Franklin
After loading the buses for travel, we all enjoyed a nice breakfast prepared for us at the Airforce Base. Before we knew it, it was time to travel to Lake Como, the final destination for our tour. As we headed for Lake Como, and the end of the trip, we all reflected on wonderful memories we had made while in Europe. It was hard to believe that it was all coming to an end so soon. However, we still had a few more days, and one more show to look forward to. We stopped for lunch in a beautiful lake town. The water was so clear and blue, it felt like we had stumbled unkowingly onto the canvas of a painting. The kids were allowed to eat lunch with their parents, which gave us some much needed time to catch up. Then we were on the road again. We drove along for what seemed like forever, when all of sudden out the window of the bus was the most amazing sight any of us had ever seen. There was Lake Como, surrounded by mountains. It looked as if a giant had scattered buildings over the faces of the cliffs, and the little clusters of shops and houses cascaded down to the edge of the water. The lake was sparkling, and sun rays danced off it's surface. You could feel the energy in the air on the bus as we all gasped. We could not believe our eyes. We had just wandered into paradise. It was a perfect way to end such a wonderful trip, and we were thrilled by the idea of what the next few days would hold in store for us.
---
July 6th ~ Entry by Jillian, 16, of Franklin
We started off July 6th by having breakfast served by the Hotel Russal which was delicious. Today was very relaxed and we had the opportunity to swim and play some tennis against our favorite staff members. Then we got gelato from the restaurant at the hotel which was a perfect snack before our show. Our call time was 6 for the final show on our European concert tour which was in Lake Como. We were all feeling sad and happy at the same time for our last show because it seemed like the tour went by so fast but Lake Como is also one of the most beautiful places to have our last show. We went to the venue which was outdoors and then we realized with the rain that was coming in that we needed to find an indoor location- and fast. Raye Lynn and Poni went to look at a great indoor location and we moved there. We went down to the dressing room to memorize our show order and get ready while parents, staff, and band got the stage set up. The venue wasn't too big but this show meant a lot to all of us so it didn't matter. We performed a great show for people in the town, tourists from Germany, parents, and other guests from home including three EY alums. We were all very sad it was our last show, but proud of the hard work we all put in this year in rehearsals and on tour. After we packed up all of the equipment we went back to the hotel for a late night dinner and went off to bed. It was a fantastic last show that was enjoyed by all!
---
July 7th ~ Entry by Erica, 18, of Medfield
Today is our last full day in Europe. We are done with all of our shows and tonight is the final party. We started the day with a delicious breakfast overlooking the scenic Lake Como. We then took a boat ride on Lake Como to Bellagio to do some final shopping. It was a gorgeous day and I personally did a lot of damage shopping, buying everyone back home souvenirs. After a few hours of shopping we headed back to our hotel on the boat or so we thought… we accidentally got on the wrong boat and Franz had to come rescue us and pick us up and drive us back to our hotel. When we got back we all scrambled to get ready for the party, styling hair and doing make up. At six o clock we all gathered and took a few pictures before making our way over to the party. We stared the night with appetizers and drinks before making our way inside for dinner. During dinner there was a slide show of our tour playing bringing laughter and reminding us of our fondest memories of the three weeks. We then each gave a speech about the tour and even though I fought my tears the hardest I could, by the end of the speeches I couldn't fight them any longer as I said a bittersweet goodbye to twelve of my closest friends. After the waterworks came dessert and fireworks over Lake Como. It was a beautiful and moving show that we will always remember. We then went to the wine cellar and danced until we nearly collapsed. We got back to our hotel around 1:30 and decided we wanted to swim for another half hour before allowing this night and wonderful tour end. We had so much fun this year - especially the last three weeks - it was hard to see it end, but we will always have the memories and we will cherish them forever.
---
Check out our photo gallery from the trip!